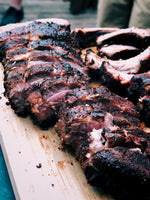 Fall Off the Bone BBQ ribs with Sheffield Cider
If you're looking for a delicious, easy, and impressive meal - these ribs may be the perfect thing.  In our years of bbq'ing, we have stumbled upon some amazing recipes.  This is one of our favorites that ALWAYS pleases. We have found that it is typically a good idea to buy an extra rack of ribs because they go so fast!
Sheffield Cider BBQ Ribs Recipe
Remove the membrane of ribs.
In aluminum pan, soak ribs in Sheffield Cider for 12 hours. Typically for a rack of ribs you will need approximately 2 bottles of cider.
Remove ribs from aluminum pan of cider, but do not discard.  You will be placing the pan on the bottom rack of the smoker to add moisture as you smoke your ribs. 
Rub seasoning thoroughly to top and bottom.  We like to go heavy on the seasoning.
Preheat smoker to 170 degrees.
Super Smoke (Traegar setting) for 1 hour.
Smoke for 2 more hours until meat is 140 degrees.  Check the cider level and add more cider if it is getting low.
Increase grill temperature to 250 degrees until ribs hit 190 degrees.
Serve alone or with your favorite brand of BBQ sauce. (we'll share some of ours in an upcoming post!)
For our ribs we prefer to cook them on our Traegar Grill Timberline 850 (found here) and use seasoning from a local company in Othello, WA called B's Seasoning.  Their website is www.bsrubs.com.  Our favorite of their seasoning is Batch #9.  All varieties of Sheffield Cider work well with ribs, however we typically prefer Sheffield Gold or Apple Cherry.